Loko prototype demo
What is Loko?
Loko is a tiny GPS Tracker based on Lora Radio which means it work anywhere, even if there is no 2G/ 3G/LTE coverage.
Loko use Low power Lora radio for communication and it doesn't require monthly fee unlike other sim-card based trackers.
Loko consists 2 hardware, Loko Air unit and Loko Ground unit:
Loko Air Unit is the transmitter unit , transmits GPS and battery level to receiver unit via Lora radio.
Loko Ground Unit is the receiver unit, Receives data from Loko Air unit , analyse the data and re-transmits to smartphone via Bluetooth.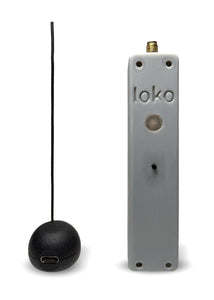 How it works
-Attach the Loko Air module to your drone,If your drone goes missing turn on the Loko Ground Unit to search. -
-Once it receives signal from Air unit , location of Air unit will appear on Loko smartphone app on map.
Follow the direction on Loko app to recover your drone
Features
-Works anywhere you go
-No cellular or internet required, no monthly fees
Range up to 10km
Locate lost drones with pin point accuracy.
Up to 30 days battery life per charge
Expandable up to 30 drones
Tracking Drones
Loko is an excellent investment for drone owners to protect against the common occurrence of crashes and loss. Drone manufacturers could also pre-install Loko in their products which would give confidence to their users.
Tracking Vehicles
(farm vehicle, equipment. boats etc) Farmers can manage the farm vehicle, equipment by tracking them in real time .Loko's powerful technology can help farmers to keep track of vehicles and monitor assets. The small piece of technology enables companies to make better planning decisions.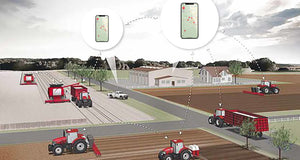 Tracking Persons
(Adventurers , workers, etc) every year many people lost in forests, mountains ,etc. To save human live Loko is a great investment
Tracking important equipment/ locations- tracking valuable equipment, locations with a pin point accuracy.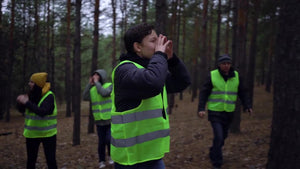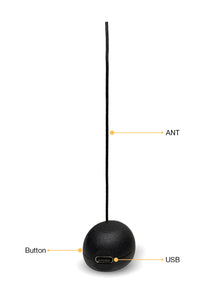 Loko Air (Transmitter)
Navigation:33 tracking/ 99 acquisition-channel GPS / GLONASS / GALILEO receiver
Radio Frequency:Worldwide Compatibility wide frequency range EU868/US915/AU915/AS923/KR920/IN865
Radio:Lora / LoraWAN, supports global LoRaWAN® frequency plan
Weight:12 gram / 0.42 ounce
Size:diameter - 30 mm x height - 23 mm
Battery life:+30 days to a year in a single charge , depends on transmit interval
Range:+10 km
Weatherproofing:IPX7 water resistance for light rain and the dust proof and durable hard plastic case protects from shocks.
Charging:5 V USB type-C power adapter
Phone AppThis version is iPhone only. Ground unit transmits data to smartphone via bluetooth
Software:PC configuration software
Auto turn on feature:Loko turns on automatically when it is powered from a USB port or on-board power source. This feature is added in case the user forgets to power on before drone flight
Loko Ground Unit (receiver):
Radios:LORA , Bluetooth 4
ANT:Antenna connector, SMA male
Button:Turns ON/OFF with 3 second button press
USB:USB Type-C connector for built in battery charging and setting the Loko Ground unit parameters
Size:114 mm x 26 mm x 29 mm
Weight:including battery, 110 g
*Batteries not included. Loko takes INC18650 batteries.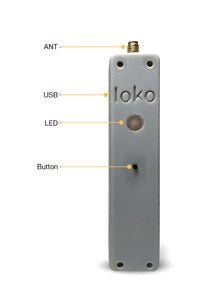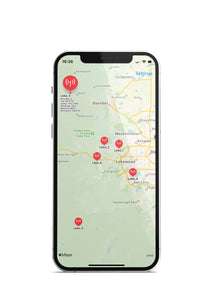 Multiple Tracking
Up to 30 Loko Air unit can connect to a single Loko Ground unit. In other word, with one receiver unit user can track up 30 Loko Air units. By giving unique ID to each Loko units , up to 30 Loko Air units can pair with a single Loko Ground Unit.
Loko is small, tiny, and super light weight .
Loko designed in a tiny form factor with super light weigh makes Loko the tiniest GPS tracker in the market. Loko is only 12 gram (0.42 ounce) and size is slight bigger than tip of a finger (30mm x 23 mm).
Despite its light weight ,and tiny size , Loko has durable, thick plastic cover which protect Loko from hard crashes.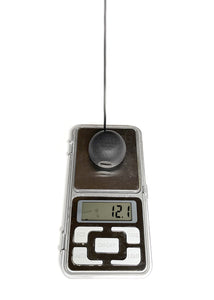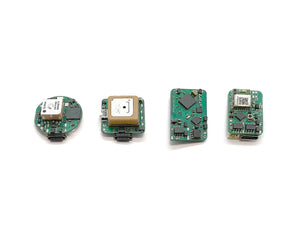 Extream Low Power Embedded Design
careful component selection,circuit design and smart use of microcontroller extreme low-power features gives Loko ability to work +30 days in a single charge with a small coin cell battery.
Configurable
Loko is configurable by a PC app, simple you connect the Loko to PC via USB ,and on Loko PC configuration app configure each parameter.
Frequency:EU868/US915/AS923/KR920/IN865
Transmit interval: Loko will transmit data with that time intreval. Higher the time interval longer the battery life. When you reduce time interval Loko transmits more data in given time and uses more energy from battery.
ID1: 3 digit ID pairs the Loko Air module to Loko Ground module. ID1 should be same on Air unit and on Ground unit
ID2: 2 digits unique ID identifies each Lok Air unit in the same network.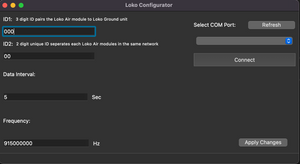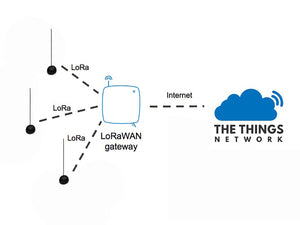 LoraWAN Connectivity
Loko can connect to excited LoraWAN gateway to get data from Loko Air unit to Internet.
Inside the package
1 x Loko Air unit
1 x Loko Grond Unit
1 x Antenna ( for ground unit)
User Manual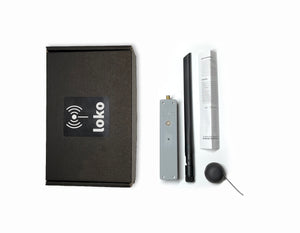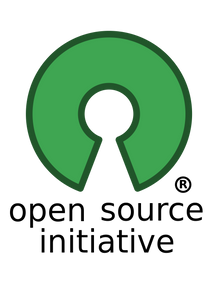 Open Source Hardware and Software
Loko is developer friendly, its hardware and firmware open for everyone . Everyone can improve and integrate Loko to their systems. You can reach Loko sure files on Github, and our developer channel on Discord.